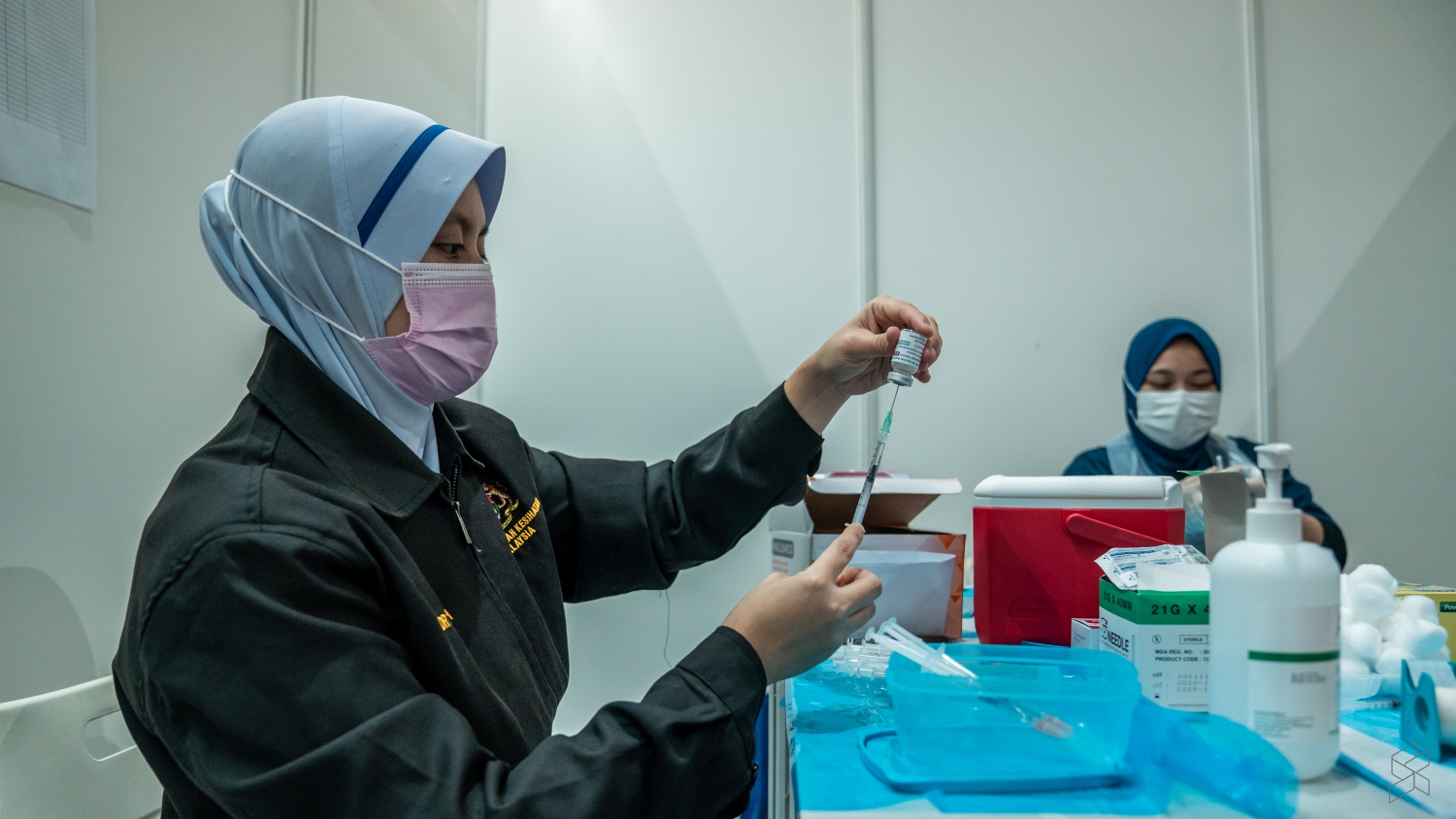 Minister of Science Technology and Innovation Khairy Jamaluddin has announced that Phase 3 of the National COVID-19 immunisation program (NIP) will begin in the Klang Valley starting tomorrow. As reported earlier, Klang Valley folks aged below 60 years old have started receiving their vaccine appointments at the new Bukit Jalil Stadium PPV.
Ini susulan 99% daripada warga emas dan orang kurang upaya (OKU) di Kuala Lumpur dan 88% di Selangor (penerima Fasa 2) sudah menerima sekurang-kurangnya dos pertama atau mendapat janji temu.https://t.co/7ybrHWujV9

— KKMalaysia🇲🇾 (@KKMPutrajaya) June 20, 2021
According to Khairy, 99% of senior citizens and people with disability in Kuala Lumpur have received at least a dose or an appointment. Meanwhile, 88% of eligible Phase 2 recipients in Selangor have received at least a dose or an appointment. Phase 2 covers senior citizens (aged 60 years old and above), people with chronic diseases and people with disabilities.
He said instead of waiting until Phase 2 is 100% completed, he has decided to start Phase 3 so that the phase can be expedited. Phase 3 of the NIP covers all remaining adults aged 18 years old and above.
Besides the Klang Valley, Phase 3 has also started in certain states. He said any state which has achieved 90% first dose or has given appointments for Phase 2 recipients will be able to begin vaccinating younger adults below 60 years old.
For senior citizens that have yet to register, they will still be prioritised even if they register after the launch of Phase 3. According to the original NIP phases, Phase 2 will run from April until August 2021. Meanwhile, Phase 3 was originally scheduled to run from May 2021 until February 2021 and it will overlap with Phase 2.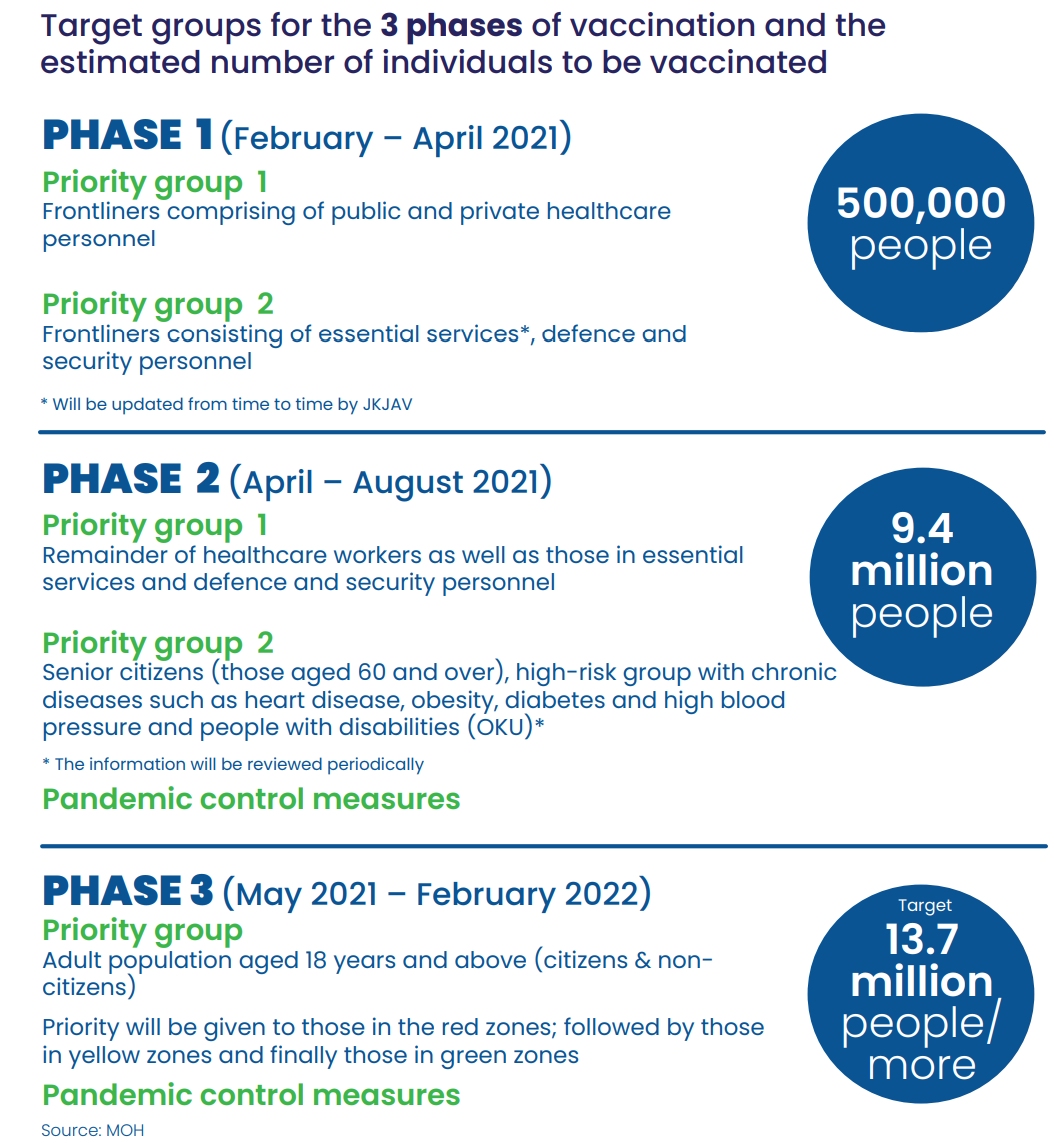 As announced last week, the NIP now has an extra Phase 4 and Phase 5 which targets crucial economic sectors and children aged below 18 years old. Phase 4 has already started at selected manufacturing and industrial areas while Phase 5 is expected to begin in July for SPM students.
At the moment, Malaysia has been administering about 200,000 vaccine doses a day and it aims to increase the rate to 300,000 doses per day by August. Khairy said the vaccination capacity is not the problem but the challenge is the vaccine supply schedule as there's vaccine inequality worldwide.
He shared that Malaysia is expected to receive its supply of 12.8 million doses in July and 14.4 million doses in August, subject to delivery. If the supplies can deliver according to schedule, Malaysia will be able to achieve its target to vaccinate 80% of the population much earlier than December.
When asked about the recently approved single-shot CanSino Bio and Johnson & Johnson vaccines, the minister said that these vaccines will be used for people who are hard to reach. This may include interiors of Sabah, Sarawak and the east coast as well as refugees who are hard to contact for their second appointment dates.
Khairy also explained that the daily vaccination rate is typically lower during the weekends as some PPVs are taking a break in according to the total vaccine supply. He said that more PPVs will be operating seven days a week when supply increases in July.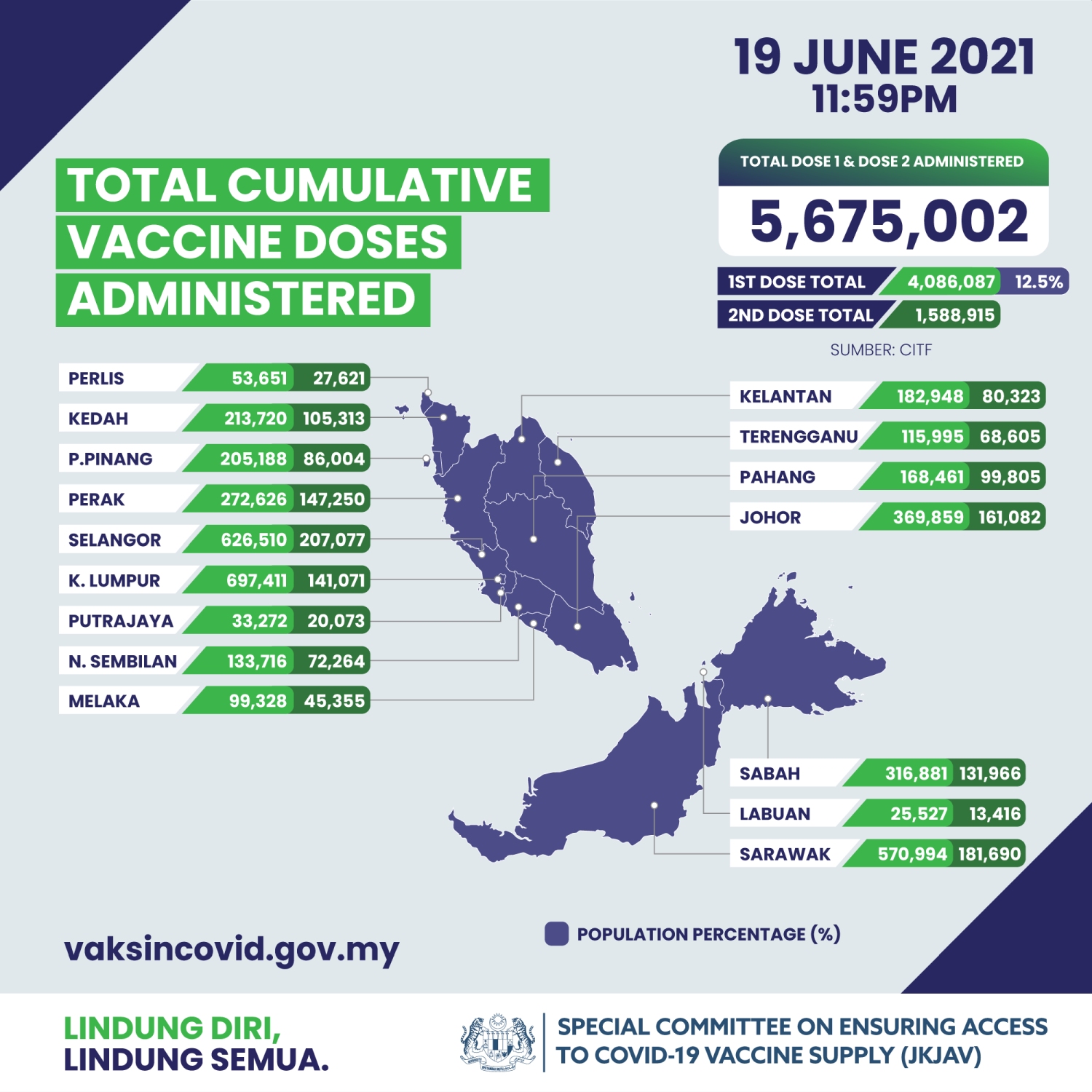 As of yesterday, Malaysia has administered over 5.6 million doses nationwide. Over 4 million people have received at least one dose which is 12.5% of the population. Meanwhile, over 1.5 million people have completed their vaccinations with two doses.
Selangor currently leads with the most completed vaccinations with 207,077 people, followed by Sarawak with 181,690 and Johor with 161,082. After three days of hitting over 200,000 doses daily, vaccinations have dropped to 180,066 doses on 18th June and 164,282 doses on 19th June.
As mentioned recently, it is advisable to check your MySejahtera app for your vaccine appointment regularly. Some people did not receive any notifications and they only found out about their appointment when they check the app manually.
[
SOURCE
]
Related reading